Disclosure: This post contains affiliate links. Read full Disclosure Policy.
My regular readers know I'm a big fan of Wen haircare — it's a product that has proven its worth to me (more on that in a bit.) Wen can be pricey if you don't watch for deals on it, and some of the best ways to get a low per-bottle price on it is to buy a multi-bottle assortment from QVC or order directly from Wen when they have a specially-discounted package. 
I've found that while I have favorite Wen formulas and scents, most of them work well for my hair. Some of the scents, though, are just not my favorites when compared to others. The scent does stay in your hair after your hair dries, so hey — smell is important!  I really love the Mango Coconut and Apple Spice formulas, but Pomegranate is just "okay" for me. I think the Fig formula is my least favorite — it is definitely the most moisturizing of all the Wen varieties I've tried, but the scent is just terrible to me — it smells like extremely medicinal cough syrup with musty undertones. Yuck. 
Here's how I make my favorite Wen formulas last longer. Washing with Wen is a two-step process. You wash your hair with Wen, rinse it out, then do a second wash with Wen (typically, from the same bottle) to condition it. I keep two bottles of Wen in my shower, pairing a not-my-favorite scent with another one that I really like. Right now, I've got Fig and Honey Peach on tap! I'll wash with Fig first, rinse it out, then wash with the Honey Peach. The second wash is the scent that lingers on your hair after it's dry. 
It's a simple trick, but it also allows me to enjoy my favorite Wen scents for a longer period of time. Instead of going through one bottle in about 30 days, it takes about two months to go through the pair of bottles, and I can enjoy the good scents for two months instead of one.
I try to pair the scents somewhat so they are complementary to each other — Pomegranate and Mango Coconut is a pairing I like, as is Tea Tree and Gardenia Green Tea. 
Some people may wonder why I would bother buying scents I'm not terribly a fan of. The answer? Price! 16-ounce bottles of Wen retail for around $30 each. My "buy" price is $16 or less per bottle. QVC does a great assortment around Christmas time each year where you can get five bottles for $79 – about $16 per bottle — but you cannot pick which scents go into the assortment. If you order directly with Wen, you also get on their mailing lists for special offers. The last time I ordered from them, they were offering a special on the Pomegranate scent only – four bottles for $49.90, which dropped it under $12.50 per bottle .
---
This is probably a good time for a "Wen update" too! I've been using Wen cleansing conditioner for more than two years now (28 months to be exact) and the change in my hair has been remarkable. I used to have extremely dry, brittle hair. In June of 2013, I decided to try Wen for 30 days to see if it lived up to the hype. For my first year, I blogged about my experiences with Wen, along with many before-and-after pictures.
This set of photos shows the most remarkable transformation. I took the first picture one month after beginning to use Wen. The second photo was taken 16 months after I began using Wen. My hair is thicker, shinier, and no longer brittle.

It's October 2015 now, and I continue to be thrilled with my Wen hair. I haven't really seen any results as dramatic as the transition from 2014 to 2015 — it just continues to be healthier, thicker, softer and shinier than it was pre-Wen. (It is a little darker than it was last year though, as I've continued to color it a deeper shade of brown after my orange-hair mishap!)
I realize that even at $16 per bottle, Wen is expensive, but I've never gotten results like these with any other hair product. Is this difference in my hair worth about .50 per day? To me, it is.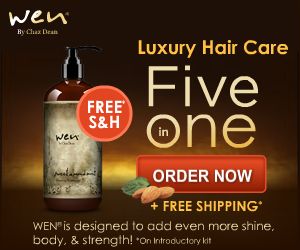 Disclosure: This post contains affiliate links. Read full Disclosure Policy.