Note: In July 2013, I began reviewing Wen with week-by-week updates for my blog readers. Here are quick links to my reviews & updates:
Wen Week #1 | Wen Week #2 | Wen Week #3 | Wen Weeks #4 and #5 | Wen 6-month update | Wen 1-year update
At present, I continue to use Wen regularly.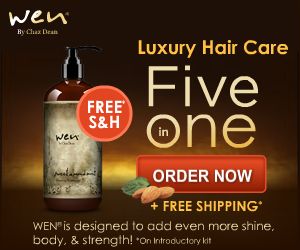 I've been reviewing the Wen Hair Care Summer Mango Coconut 30-day starter kit, available for $29.95. It's a cleansing conditioner system that cleans your hair without shampoo and promises softer, shinier hair. Miss my writeup of Wen Week #1? Here's a link.
---
My second week of using Wen went well. There haven't been any significant changes in my hair this week – it's still very soft and shiny. I shampooed my hair three times this week with Wen, and I haven't experienced any oiliness or buildup of the product, which is good. And my bottle of Wen is diminishing (more on that in a moment…)
Here's a photo I took on Friday night after washing my hair that morning:
Some observations: Washing my hair takes a lot longer than it used to! It's not a bad thing, but both my sons have commented on my "long showers." I am still using 12 pumps of Wen, rubbing it in and using a wide-toothed comb to pull the product through (you can
see this method in their how-to-use video
on YouTube.) Then, I repeat the whole process with 12 more pumps. Finally, I use one pump as a leave-in conditioner once I've rinsed everything out. They do stress that your hair has to be completely wet and saturated with water before you start the cleansing process.
On one wash, I tried just using 12 pumps, going through the rubbing/combing and rinsing it out. My hair was not nearly as soft or shiny after this. (Darn – I was trying to save some product, and in turn, money..!) So I went back to the two-times process they recommend.
It also takes a lot longer for my hair to air-dry than it used to. Again, I work at home most of the time, so I don't mind the extra dry time, but it definitely takes longer. Trying to accelerate the dry-time with a blow dryer doesn't work as well either – my hair just feels "heavier" when it's wet after washing with Wen.
While my hair has been a lot less frizz-resistant in the humidity, it is still affected by the weather. I dropped my son off at day camp this morning in the rain ("rain" is putting it lightly – it was a downpour!) and I got drenched running from my truck and back to check him in to camp. When I got home, this is how my hair looked:
It really doesn't frizz, but the waves do come out when it gets wet!
I've had a few readers ask questions about my thoughts on Wen, so I'll answer those now:
Have you experienced hair breakage/loss? No, thankfully. Some Wen reviewers have noticed shedding/breakage after using Wen. I haven't. But if you're using a comb to pull it through your hair as they recommend, Wen is very thick, and I can see how that could put tension on your hair.
Is the 30-day bottle going to last an entire month? Wen recommends 24-32 pumps of Wen per wash if you have long hair. I've been using 24, plus an extra pump at the end as a leave-in. Here's what my Wen bottle looks like today:
For this photo, I shined a flashlight through the bottle as it is a dark amber color – hopefully you can see where the level is at. It's a little below the half-empty mark. I've washed my hair six times with this over the last two weeks.
Why haven't you used any of the other products in the kit yet? Honestly, I want to see what the "main" Wen can do for me. In the infomercials, they stress that your hair will be so good that you won't need any other products. (So why do they sell other products then? Hmm…) I do plan to try the Sixthirteen deep conditioner this week, so I will update you on that. As far as the anti-frizz product, I haven't needed it, and I'm not even sure what the refresher spray does, though I know that when I spray water on my dry hair, it curls – something I try to avoid.
Will you continue buying/using it after this month is up? I also just don't know yet. I am beyond thrilled with how soft my hair is, but I cannot stop thinking about the price of this. Is it worth a dollar a day?
You all know I'm pretty no-frills. I'm not a spa girl, I don't get manicures, pedicures, massages. I don't drink coffee, so there's no daily Starbucks habit here. Heck, I wouldn't even have cable if a one-TV package wasn't part of my internet service..! Our other home TVs use an over-the-air antenna because it's free. $30/month is a huge indulgence, financially, that I can't help but think could be spent in better ways than on making my hair look good. I'm going to hold off answering this question for another week or two until this bottle runs out…
Continue to Wen Hair Care – Week #3
---
FCC Disclaimer: I am not being compensated for this review. I purchased Wen via the summer $29.95 online special shown above, and I am writing my opinions of this product as it's something I've been curious about trying for a long time. My Week #1 review of Wen is here.
If you decide to try Wen, the $29.95 summer special with bonuses is still going. Note that Wen haircare is a subscription program. It WILL send you more a month from now and bill you $29.95/month plus shipping and handling. You have to cancel if you want to stop it. But, Wen has a 60-day money back guarantee. From their site:
Try the WEN® Healthy Hair Care System for yourself. If you don't think it's the perfect answer to hair care, just return the unused portion within 60 days of delivery and we'll refund the purchase price (less shipping and handling). We can make the guarantee because we know the WEN® Healthy Hair Care System works!
---
Note: In July 2013, I began reviewing Wen with week-by-week updates for my blog readers. Here are quick links to my reviews & updates:
Wen Week #1 | Wen Week #2 | Wen Week #3 | Wen Weeks #4 and #5 | Wen 6-month update | Wen 1-year update
At present, I continue to use Wen regularly.