In 2013, I began reviewing Wen for one month with week-by-week updates for my blog readers. After the first month, I did a six-month check-in post. I've now been using Wen for 16 months, and I continue to use Wen regularly. I purchase Wen for my own use and have not been compensated for writing about my experiences with it. This post contains affiliate links.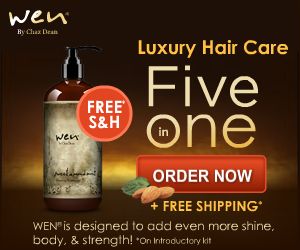 On June 24th, 2013 I began using Wen Hair Care products. If you're unfamiliar with Wen (and it would be difficult to be — their informercials and ads are everywhere) Wen cleansing conditioner replaces your former routine of lather-rinse-repeat with shampoo and conditioner.
I've had dry, wild and brittle hair for most of my adult life, and the allure of having soft, shiny hair seemed too good to be true. While Wen is pricey (when it's not on sale, it's close to $30 for a one-month supply,) its money-back guarantee gave me the confidence to give it a try.
For the first month I used Wen, I blogged each week about my results with it. That series of posts begins here if you're interested, and if you're reading this before reading those, go back and check those out too. They're very detailed with all of my first-months observations on the changes in my hair.
As a refresher, this was my before picture from June 2013 — the last time I washed my hair with regular shampoo. (Considering how healthy my hair is now, this is painful to look at again..!)
This is a photo of my hair taken today in October, 2014:
I could not
be
happier with the condition of my hair. Wen improved the softness and shine of my hair from the first time I washed with it, but its texture has changed so much over the past year too. It's thicker, softer, and I simply don't get split ends the way I used to with regular shampoo. Instead of my hair tapering off to thin, weak ends, it's thick from the roots to the tips.
My hair feels very silky, but it's also got plenty of body and bounce. I have always wanted to grow my hair longer, but my hair would simply break off when it got to a certain length because the ends would be so damaged. Over the past 16 months, I've been getting trims pretty regularly to get the ends back to a healthy state. It's been about 2 1/2 months since I had my hair trimmed in these most recent photos, and I think you can see how healthy the ends look now. I'm looking forward to seeing more healthy hair growth over the months ahead.
And oh, the shine..! Because Wen doesn't contain detergents, it doesn't strip my hair the way shampoo used to. When I color my hair, even though I use a temporary haircolor, it lasts much longer than it used to when I was using shampoo. My hair is shinier than its ever been. Indoor photos don't quite do it justice — when I'm out in the sun, my hair reflects so much light that the color even looks lighter/brighter than it does indoors. Lest you think I just colored my hair for these photos, it's actually been more than four weeks since I last colored it.
While I was writing this update, I went back and looked at some of the photos I took during my first month with Wen. I remember being so excited about how much softer and healthier my hair was beginning to look
just two weeks into
this experiment. Compare that photo to my hair today — taken in the same bathroom with the same lighting. It is incredible to me how much
thicker
, shinier, and healthier my hair is today!
I'm not using any other products in my hair other than Wen Cleansing Conditioner. Wen makes a lot of add-on items (hair masks, oils, anti-frizz products and more,) but I'm not using them regularly. I got a few with my initial Wen order, which I tried, but aside from the novelty of having more hair gear to try out, I haven't reordered any of them. The Wen cleansing conditioner is the only product I need to make my hair look great now. Prior to Wen, it took a myriad of sprays, mousses, leave-in conditioners and other products to make my hair look presentable.
I realize Wen is not for everyone — do a web search for Wen reviews, and you're likely to turn up nearly as many negative reviews as positive ones. When I began using Wen last summer, some of my blog readers wrote to me to share their own experiences with Wen. Some loved it, and others weren't impressed and sent it back for a refund. I believe that if you have a certain type or texture of hair — especially very dry/damaged/frizzy hair — Wen may make a huge improvement in your hair. It definitely did for mine. If you're someone who doesn't need this level of moisturization and conditioning, consider yourself very lucky! My daughter, who's half Filipina, has the most gorgeous, thick and shiny dark hair I've ever seen. She can wash it in Suave, Pantene, you name it, and it always looks stunning. I'd trade hair with her in a heartbeat if such a thing were possible!
---
I've received some questions from readers since my last Wen update, so I'll answer them here…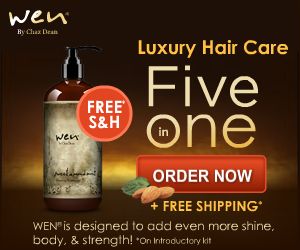 How can I get Wen as inexpensively as possible?
A 16-ounce bottle of Wen retails for $29.95 through Wen directly, and this is a one-month supply. If you read my first month with Wen week-by-week reports, you know that I ran out of Wen before my first month was through. As the condition of my hair has improved, I have found that I don't need to use as many pumps of Wen to cleanse my hair. I started off using 24 pumps of Wen, but now I use 16 per wash (two rounds with 8 pumps of Wen each.) This has helped my Wen supply last a little longer.
Wen is sold (legitimately, that is) through Wen.com, through QVC, through Sephora and through Chaz Dean's Hollywood salon. (Wen available on Amazon
or via Ebay is being sold through a third party — be careful if you take this route, as Amazon has reviews from people who purchased Wen and got something else inside the bottle.)
If you order from Wen.com: Your first order is $29.95 with FREE shipping, plus whatever free bonuses they're offering at the time. When I first signed up with Wen, I got one 16-ounce bottle of cleansing conditioner, a travel kit with two tubes of Wen plus a refreshing spray; a tube of styling creme, and a bottle of Wen 613, a deep conditioning treatment. If you are at all interested in receiving the bonus items, this is a good deal — you are paying full price for the first bottle, but you're also not paying shipping. Wen.com offers a money-back guarantee too if you do not like the product.
If you decide to go on an autoship plan with Wen.com, after your first shipment, they will ship you multiple bottles of Wen at a time. The default is three — you can negotiate how often you wish to receive it or how many bottles you want at a time though. When I was on Wen's autoship plan, I was paying $71.80 for five bottles of Wen — that's $14.36 per bottle, a great price for it. This was a price offered to me on the phone when I called during my first month to say that I was running out of Wen before the 30 days were up — they suggested I order multiples at a time and offered me that price.
After an experience last fall where Wen shipped Sweet Almond Mint instead of the seasonal scent/formula than I was supposed to receive, I cancelled my subscription to Wen (even though the per-bottle price was great!) and decided to start buying from QVC. I like when QVC offers assortments with different seasonal formulas in the same box.
If you order from QVC: QVC has 2-packs of 16-ounce Wen Pomegranate and Wen Sweet Almond Mint for $40 nearly all the time — that's $20 per bottle. In the absence of other deals, $20 is better than paying $29.95.
QVC often has Wen specials too, and if they're really good, I try to blog about them for my readers. The best one I've seen to date took place in December 2013 — a 5-bottle pack of Wen For $79.86 which worked out to $15.97 per bottle. I ordered two of them and still have some bottles left from those orders. I will be watching to see if this deal comes around again this holiday season.
If you buy from Sephora: Sephora carries Wen in-store and online for $32 per 16-ounce bottle. I really haven't seen it cheaper or on sale at Sephora for less than that. Sephora only seems to carry the core Wen formulas and not the seasonal ones.
(And yes, I do realize the irony of me, a coupon advocate, eschewing the often-inexpensive shampoo deals in favor of pricey Wen. If the inexpensive products worked as well as this does for me, I'd still be using them. As I've said before, this has become one of my few vices/indulgences. Don't all couponers save in one area to free up money for other areas?
---
What's the advantage of the Wen Seasonals vs. regular Wen scents?
Wen has a "core" group of formulas that includes Sweet Almond Mint, Pomegranate, Cucumber Aloe, and Lavender. In the absence of any deals, these are usually the lower-cost Wen formulas too. Wen also comes out with four new scents/varieties each year, one for each season.
The Wen seasonals are supposed to be a more "premium" Wen — they have some more of the moisturizing ingredients from Wen's 613 deep conditioning cleanser product (see here and here for more info about that.)
Wen.com offers both the core group of Wen formulas and the seasonals when they're available. QVC always has both. I personally like the variety of having new scents and formulas, but if I cannot get a good price for the seasonals, I'd purchase the Pomegranate, which is the one closest in formula to the seasonals.
If you use Wen's online tool to find the best formula for your hair, it will show something like this:
The seasonal formula is always shown as the "best" one.
---
What do you think of the various Wen scents? Did you try the new scents for 2014?
I've included my thoughts on the various Wen scents I've tried in past reviews, with the exception of this year's scents. I'll reprint the past reviews here and include the new ones at the end:
Sweet Almond Mint:

I tried this one as it came in my travel-size Wens (free gifts when I signed up with Wen for the first time.) I find this scent to be just "okay" – it's almost a minty candy scent. I am not terribly crazy about minty scents in shampoo. This one is also wheat protein based vs. the soy proteins of the other Wen varieties I've tried. My hair seems to like the soy formulas better — they feel like they have more "slip" when you're washing with them, and for me, they leave my hair softer and shinier than the Sweet Almond Mint does.

Pomegranate:

The initial scent of this is very fruity and tropical, but it has a strong menthol undertone that I really don't like. I'm really happy with the way it cleans my hair — I'm just not terribly crazy about the scent. In the absence of deals on the seasonals though, this is the one I would buy most often.

Summer Mango Coconut:

The scent that got me hooked on Wen. The scent's evocative of suntan lotion and tropical fruit, and it lingers long after my hair is dry. This one is still my all-time favorite.

Fall Apple Spice:

This smells just like fresh cut apples dipped in caramel. Fantastic! My second favorite scent, which I'm really enjoying this fall. The scent of this one also stays in my hair for a long time.

Winter Cranberry Mint:

This has a sweet berry smell with an undertone of mint, just like you'd expect. The mint isn't overpowering and I do like this one too.

Spring Gardenia Green Tea:

It smells like being outdoors after it rains with some florals, but nothing overpowering – a nice, fresh scent

Spring Orange Blossom (new for 2014)

: I'm not crazy about this scent. The formula cleanses my hair fine (as the rest of the seasonals do too) but it's a very heavy, heady, strong floral. It does not smell like oranges to me at all — it smells like honeysuckle. Not my favorite.

Summer Honey Peach (new for 2014)

:This one smells more like peach candy than fresh peaches, but it's pleasant. It's a very strong peach scent. The first thing that comes to mind? Those gummy peach ring candies that my kids like..!
All of the seasonal scents clean my hair with the same softness/quality as each other. I have not tried the Fall Tuscan Pear (also new for 2014) yet as I still have a decent number of bottles of Wen on hand here and won't order more until a super-good deal comes along.
---
Lastly, here's an email from a reader wondering if Wen is healthier for hair due to its many natural ingredients:
I stumbled upon your site when I did a search for the ingredients in Wen hair care products. I regularly read the newsletters of physician and natural health "eat the right stuff" guru Dr. Mercola. Today, he wrote about the FIVE ingredients we don't want in our hair care products. I thought this might be a reason to pay the price for Wen.
I thought YOU might want to see what Dr. Mercola has to say about hair care: 5 Potentially Toxic Ingredients Found in Most Shampoos and Conditioners
I didn't choose Wen for its natural ingredients, though I like that aspect of it. I do believe that washing without sodium lauryl sulfate (SLS) has helped my hair immensely. SLS is a sudsing and degreasing agent, and after enjoying a more-than-one-year break from it, I do believe it was drying my hair out and making it very brittle. (I wish I'd known or realized sooner that traditional shampoos were very bad for my hair type.) If avoiding SLS and other potentially harmful ingredients is better for me and my hair in the long run, I'm for it.
In 2013, I began reviewing Wen for one month with week-by-week updates for my blog readers. After the first month, I did a six-month check-in post. I've now been using Wen for 16 months, and I continue to use Wen regularly. I purchase Wen for my own use and have not been compensated for writing about my experiences with it. This post contains affiliate links.