Disclosure: This post contains affiliate links. Read full Disclosure Policy.
This summer, my husband and I celebrated our anniversary by getting a new kitchen table and chairs. (Romantic, isn't it?) We were actually long overdue for upgrading this, as we were still using the table I got in college — an oak table bought on clearance from Wickes Furniture in 1995. Chairs from Sam's Club purchased a few years later became a "close enough" match to the table.
We never did anything special to protect the old oak table, and the finish lifted and wore with use. Over the years, joints in the Windsor-style chairs loosened, and some broke. We repaired chairs and considered stripping and refinishing the tabletop.  Eventually, talk turned to simply replacing the set with something new, especially a larger table that would give five of us more room to sit around it.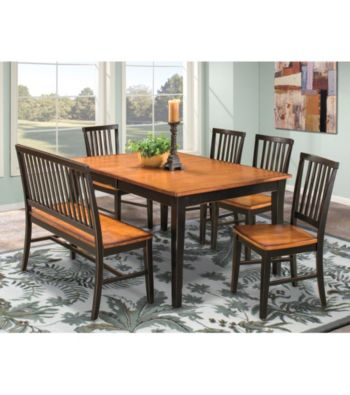 After visiting a few furniture stores in the area, we picked out a dining room set at Carson's Furniture that the entire family loved. A week later, we were all swooning over the bigger table and sturdy chairs that didn't creak and squeak! We love the look of this set's black-and-tan style — our kitchen has black cabinetry, and the new set really brought our entire kitchen together.
Whenever you have something new that you've invested some money in, aren't you inclined to try to keep it as nice and new-looking for as long as possible? It took more than twenty years for my old oak table to really look worn out, but no one wanted to put the first scratch or dent in the wood of this new table either.
We discussed getting a piece of glass cut for the tabletop, and I called around to several local glass shops. The least expensive (Herb's Glass in Elgin, Illinois) was $181 for annealed glass and $324 for tempered. The glass shop explained that annealed glass was better for a tabletop, and that was more budget-friendly too. The glass shop's edge-polishing machine was being repaired, and they said to get in touch in a few weeks.
The weeks went by, and everyone in the house was babying our new table. The kids were putting magazines under their homework papers to avoid digging pens and pencils into the wood when writing. We bought washable cotton placemats
to put on the table whenever we were eating in order to protect it. Check out this photo from my son's birthday:
We were constantly worried about making the first scratch or nick in the table. I remember sitting around the new table with our extended family, all of who were complimenting the new table and chairs. I mentioned we were thinking of putting a glass top on, and my aunt commented that it seemed a shame to cover up such a beautiful wood surface. Indeed, the natural look of wood is part of the reason to get a wood table, isn't it?
And then, it happened.
The crazy thing is, no one in the house knows how this happened. Worse, this little fingernail-size dent is right in front of my seat at the table. I swear I didn't do it! This little dent looks much worse in the photo than it does in person, but it was the decision point for us — we would order the glass top.
Perhaps it would be different if we had both a kitchen table and a dining room table, but our kitchen table gets used every day. We eat all our meals at it, and occasionally, silverware gets dropped and beverages get spilled. Our children do their homework and art projects on this table. Halloween pumpkins get carved. Pinewood Derby cars get painted. I use it for sewing projects and electronics projects. Life happens at our kitchen table.
We ordered the glass.  Part of the reason this glass shop has the lowest prices in the area is that they do not deliver, and you must pick your orders up. I would guess neither my husband nor I hadn't driven as slowly and carefully as we did with that giant piece of glass as we did the day we brought our babies home from the hospital..!
I had done some reading about the pros and cons of laying the glass directly on the tabletop versus using clear plastic glass spacers
 to put some airspace between the wood and the glass. Several woodworking websites I read pointed out the need for air flow under the glass to prevent the wood surface from warping or cracking with seasonal and humidity expansion and contraction. Other links recommended felt spacers over plastic so that the plastic spacers do not bond to the wood's finish underneath. (There's another link about the risks of this here.)  
The glass shop gave us enough plastic spacers to use, and we prefer the nearly-invisible clear look of them, so we used them. We are planning to move the glass spacers every few months so they aren't stuck in exactly the same places indefinitely. 
This brings me to my next, surprising issue. I naively thought that a glass top would keep the wood surface completely clean, but strangely, food crumbs do gather in the space between the wood and the glass:
(How does this happen? Really!) Our new table is beautiful, but crumbs under the edge of the glass are not. While we could move the glass and clean them out, the glass weighs close to a hundred pounds, and it's not the easiest thing for one person to move alone. Here's what I've been doing to get the crumbs out:
I've been using the brush attachment for our vacuum cleaner (it's very soft, not scratchy) and working the edge of the brush under the glass. It wiggles the crumbs loose and sucks them up. Voila!
I thought I'd share our experience with my readers, as this is exactly the kind of information I was looking for when we were deciding whether or not to glass-top our wood table. If I had it to do over again, I would consider having the glass cut 1/4″ wider than the tabletop to help keep the crumb-collection to a minimum. As it is now, though, the tabletop is cut exactly to match the dimensions of the table, and we're really happy with it.
I also love being able to wash the table, something I rarely did with our old wood table. Water is no friend to a wood finish, but I can wipe the glass down after meals with a dishcloth, hot water and dish detergent. A little Windex makes it spotless! Beverage spills don't run into the cracks between the table's leaves. 
I don't expect the glass to continue to look perfect — glass can easily be scratched too, but at least the wood has more protection now. We do still use the cotton placemats with meals as it helps reduce the sound of plates, glasses and silverware clinking on the glass.
Our college-age daughter is also happy. After claiming dibs on our old couch earlier this year for her future apartment, guess who's claimed a "new" (old!) kitchen table and chairs for her place too? 
Disclosure: This post contains affiliate links. Read full Disclosure Policy.