Note: In July 2013, I began reviewing Wen with week-by-week updates for my blog readers. Here are quick links to my reviews & updates:
Wen Week #1 | Wen Week #2 | Wen Week #3 | Wen Weeks #4 and #5 | Wen 6-month update | Wen 1-year update
At present, I continue to use Wen regularly.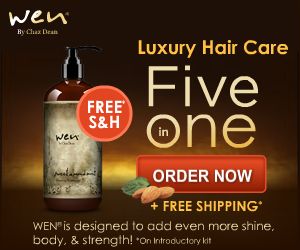 I've been meaning to do a six-month update on my experience with Wen Cleansing Conditioner. I first started using Wen in July of 2013, and I did a
week-by-week
series of posts about my experiences.
A couple readers have written with more questions about Wen, which I'm happy to answer:
"I want to thank you for the 5 week review you did of Wen. I am likely going to order the product on Wednesday, my question for you is do you still use it? It's been several months down the road and I'm just interested in an updated opinion I suppose. Also, what scent do you recommend?"
Yes, I'm definitely still using Wen! I don't think my hair has ever felt or looked healthier. It is still very shiny, and I've also noticed that it seems to be growing faster. While I'm not a big believer that anything can make hair grow faster, what I believe is happening is that the ends of my hair are no longer breaking off like they used to. For a long time I've wanted to grow my hair longer than the length I usually wear it, but it seems to get to a certain length, and then the ends break off. I have noticed a lot less breakage near my ends in the six months I've been using Wen.

As far as which scent I would recommend: Wen comes in a lot of different formulas. They're not simply the same formula with a different scent.
Wen's website
lists the various formulas and which hair types they're best for. There are three standard formulas you can order online from Wen, and they are Sweet Almond Mint, Pomegranate and Lavender. Sweet Almond Mint and Pomegranate are for normal hair, and Lavender is for fine hair. The main difference between the Sweet Almond Mint and Pomegranate is that Sweet Almond Mint and Lavender are made with wheat protein, and Pomegranate is made with soy protein. I am an ingredients nerd, and I have learned that my hair seems to be softer and shinier with the soy-based Wen formulas.
The first Wen formula I tried was Summer Mango Coconut, which is still at the top of my favorite Wen list. This is a seasonal formula, and all of the seasonals are soy-based as well. I am subscribed to the seasonal plan with
Wen.com
, and they had an issue in the fall of 2013 where the seasonal fall scent wasn't in stock when my order was due to ship, so they shipped Sweet Almond Mint instead.
I had already tried the Sweet Almond Mint before as my first Wen kit came with a bonus set of travel-sized tubes in that scent. It cleaned my hair fine, but for me, the soy-based formulas have more "slip" when I wash my hair – they seem to slide through and work into my hair more easily. (Considering the large amount of Wen you use when you wash, this appeals to me.) Plus, the scent of mint was a little much for me personally with this type. So, I called Wen and asked if I could send back the Sweet Almond Mint, and in turn, they shipped Pomegranate in its place. Pomegranate is the one standard-Wen formula that is closest ingredients-wise to the seasonal formulas. There are additional Wen formulas available from QVC too.
I am very happy with the condition of my hair using the Wen Pomegranate. To me, though, it has more of a menthol undertone to the scent than any of the other seasonals do. All of the adult Wen cleansing conditioners have some menthol in them, but I don't notice this
at all
in any of the seasonal scents like I do with the pomegranate.
(I've read the menthol in Wen is supposed to stimulate hair growth.)
So, if I were to use Wen for the first time, what would I do? Probably the same thing I already did – order from Wen when they're offering the seasonal plan, free shipping and new customer bonuses, as it really maximizes what you're spending. Wen.com only offers the seasonals at certain times throughout the year, and right now, they have a similar offer running. You can get a one-month supply of Wen Winter Cranberry Mint Cleansing Conditioner, plus the travel kit (two tubes of Sweet Almond Mint cleansing conditioner and a bottle of replenishing mist spray), and two more bonuses: A bottle of SixThirteen deep conditioning treatment and a tube of Sweet Almond Mint Anti-Frizz styling cream. All of that's $29.95 with free shipping. $29.95 is also the base cost of one 16-ounce bottle of Cleansing Conditioner, so if you want to try Wen, you might as well get a lot of extras too, right?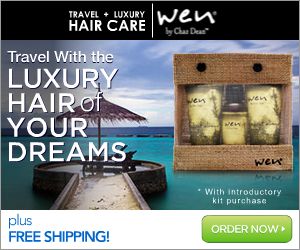 You do get a 30-day money back guarantee if you don't like it, so it's a risk-free way to try Wen too. If you do like it, you'll go on an auto-ship plan where you'll get three more bottles sent every three months. I've already detailed my experiences with that in my other Wen writeups, so I won't go into it further here. In my experience, they're pretty willing to work with you if you need more than three bottles every three months, or you need to pause your shipments.
As I noted earlier, you can also
order Wen from QVC
. The bottles and varieties QVC sells are the same ones sold at the Chaz Dean salon in Hollywood. 16-ounce bottles of Wen sell for $32 at the salon, and QVC sells them for $29. However, QVC often has Wen special events and sales where they sell for less. Right now,
QVC.com has a 2-pack of 16-ounce Wen
(one Pomegranate, one Sweet Almond Mint) for $40 – that's $20 per bottle. QVC also has a
3-pack of 16-ounce Wen
that adds a bottle of Tea Tree for $58.20 – $19.40 per bottle. Those are the best offers I see right now.
Back in December, I also
blogged about
a 5-bottle set of Wen that QVC was offering for $79.86 – that's $15.97 per bottle, and the cheapest I've ever seen Wen since I've started watching prices at QVC. And, after missing my fall seasonal shipment, I was really looking forward to trying new scents. So, I called to pause my auto-ship Wen and ordered this set from QVC. (I could have cancelled my subscription, but if you fully cancel, you lose whatever your locked-in shipment price is with them, and I didn't want to do that. So, it's paused until I call them back and decide to restart it.)
And now that I've been enjoying a box full of different Wen scents, I'll tackle the next question…
---
"I am 90% close to ordering Wen after reading your review! But one question. I read that the ingredients in the Wen.com Guthy Renker mail order Wen are slightly different from the QVC Wen. Consider trying both and let me know what Wen really works better?
It's true – the ingredients in the mail-order Wen are minimally different than the salon/QVC Wen. (How different? My Mango Coconut from Wen.com had one additional ingredient that the salon Wen didn't — Pomelo grapefruit seed oil. That's it.) And, now that I've had a chance to use both the mail-order Wen and the QVC/salon Wen, I honestly can't tell the difference between the two. They smell identical, feel identical, and the product itself looks identical. I would hope, as both are being sold under the Wen name, that they are..!
In the above photos of my Summer Mango Coconut and Pomegranate, the bottle on the left is from Wen.com, and the bottle on the right is from QVC. The QVC bottles are shorter and of a larger diameter than the Wen.com bottles.
As my QVC kit came with both Pomegranate and Summer Mango Coconut, I have done washings back to back with the Wen.com versions and the QVC versions of these. There's no difference that I can discern. Buy whatever you like and with whichever site's got the best deal, of course!
All of the seasonal scents clean my hair with the same softness/quality as each other. My thoughts on the ones I've tried:
Summer Mango Coconut: The scent that got me hooked on Wen. The scent's evocative of suntan lotion and tropical fruit. Still my favorite.
Fall Apple Spice: This smells just like fresh cut apples dipped in caramel.

Fantastic

! My second favorite scent.
Winter Cranberry Mint: This has a sweet berry smell with an undertone of mint, just like you'd expect. The mint isn't overpowering.
Spring Gardenia Green Tea: It smells like being outdoors after it rains with some florals, but nothing overpowering – a nice, fresh scent.
As part of the QVC deal, I will get one more shipment in the Spring containing the first two new 2014 seasonal formulas: Spring Orange Blossom and Summer Honey Peach. I'll update this post when I've had a chance to try and enjoy those.
---
Wen DVD Giveaway
Now, if you're still reading, chances are you're into talking Wen as much as I am. In my earlier posts I've stressed how much watching the Wen instruction videos online helps immensely when you're learning to use it — there is a learning curve, and washing with Wen is very different than washing with shampoo. I spent a lot of time watching Wen how-to videos online long before I took the plunge and ordered.
My QVC Wen set was supposed to come with an instructional DVD. I didn't realize I'd get one DVD for each bottle..! And, while I ordered one five-bottle set of Wen, what arrived at my door? Two five-bottle sets of Wen. So, I now have a nice Wen stockpile, plus nine extra Wen instructional DVDs. If you'd like one, send me an email with your mailing address & I'll send it out until I run out of them. – GONE – these went quickly!
Update:
1/14 7:51am: Reader Lori claimed a DVD… eight more left.
1/14 10:24am: Reader Maggie claimed a DVD… seven more left.
1/14 10:26am: Reader Kristine claimed a DVD… six more left.
1/14 10:31am: Reader Pam claimed a DVD… five more left.
1/14: 10:38am: Reader Lisa claimed a DVD… four more left.
1/14: 11:03am: Reader Yadira claimed a DVD… three more left.
1/14: 11:07am: Reader Julie claimed a DVD… two more left.
1/14: 11:09am: Reader Nancy claimed a DVD… just one more left!
1/14: 11/31am: Reader Andrea claimed the last DVD. All gone!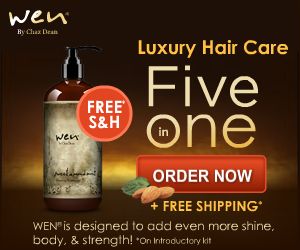 Ready for my One Year With Wen Hair Care update? The difference in my hair has been incredible..!
Note: In July 2013, I began reviewing Wen with week-by-week updates for my blog readers. Here are quick links to my reviews & updates:
Wen Week #1 | Wen Week #2 | Wen Week #3 | Wen Weeks #4 and #5 | Wen 6-month update | Wen 1-year update
At present, I continue to use Wen regularly.