Note: In July 2013, I began reviewing Wen with week-by-week updates for my blog readers. Here are quick links to my reviews & updates:
Wen Week #1 | Wen Week #2 | Wen Week #3 | Wen Weeks #4 and #5 | Wen 6-month update | Wen 1-year update
At present, I continue to use Wen regularly.
I've long been curious about Wen hair care products. I've seen the infomercials and the celebrity testimonials, but I've always cringed at the price. Do I take a chance on something that costs almost $30 per month (expensive to this very budget-conscious girl!) to see if it works as well as they say?
My hair is naturally wavy, though I blow-dry it straight. It also has a tendency to be dry for the first few days after shampooing, plus frizz up at the tiniest hint of humidity in the air. We all want beautiful hair, but my third-day hair (meaning, three days after washing) is usually the best. Some of the oils have come back, the shine is restored, and it behaves. Just about the time I need to wash it again, of course.
All of this seemed to make me the perfect candidate for Wen. Wen is a "cleansing conditioner" system — there's no shampoo. You wash your hair with Wen, which is supposed to clean your hair without stripping your hair's shine and natural oils. According to its claims, you can wash your hair as many times in a row as you'd like, and it won't dry out or get frizzy.
In Wen's infomercial, hairdressers wash the hair of two identical twins, one with shampoo and one with Wen. I can't remember how many times they repeated the washings, but it was more than a dozen – it might have been as many as fifty. However many times it was, the twin on the left with the regular shampoo had big, wild hair by the time the experiment was over, and the twin on the right had shiny, movie-star hair that we all want.
The twin with the regular shampoo? Her hair looked like mine does most days before I style it. Ouch.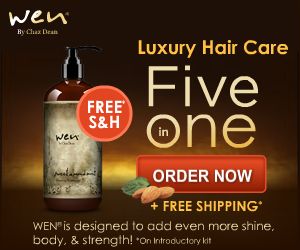 Wen has a special running, which I posted on the blog a couple weeks ago when another reader was asking about Wen. It's
$29.95 for a 30-day supply of Wen
(in Summer Mango Coconut scent) with three bonuses:
WEN® Anti-Frizz Styling Créme
WEN® SIXTHIRTEEN® Ultra Nourishing Cleansing Treatment
WEN® 3-product Travel Kit
I've read many reviews of Wen over the past year or so (I guess I've been in the "is it worth it or not" mindset for a while.) Wen seems to be a product people either love or hate. People with dry hair seem to think its a godsend. Others say it is greasy and takes the life out of their hair. The 30-day bottle of cleansing conditioner sells for $29.95 on its own, and when I saw their summer offer online with the bonuses, I figured… why not. I'll try it and see — and of course, share my findings with you guys! So, I took the plunge and bought it. Last Monday, my 30-day Wen kit arrived. And here's how my first week with Wen went…

My Wen kit arrived on Monday, June 24th. Here's what came with it:
The largest bottle is the one-month supply of Mango Coconut cleansing conditioner. As far as I was concerned, the rest of the products were "bonuses," as the cleansing conditioner is really what I was most interested in trying. The box on the left is a travel kit with two tubes of Wen inside, plus a refreshing spray. The small tube in the middle is the styling creme, and the smaller bottle is Wen Sixthirteen, a deep conditioning treatment.
So, if I'm going to do a true comparison, I figured I should take a "before" photo. Here I am after washing my hair for the last time with regular shampoo (my previous hair regimen consisted of Organix Macadamia shampoo and John Frieda Deep Treatment conditioner.) Oh, these aren't good photos at all, but they're honest ones. Once my hair is dry, it takes a lot of styling, stylers, and products to tame it into "good hair."
So, on Monday night, I hit the shower with my new bottle of Wen and washed my hair for the first time.
If you look at the ingredients on the bottle, Wen has a lot of natural botanicals and moisturizers in it. The bottle says to wash your hair with 10 to 15 pumps of the product, but a card that came in the box said that if you have long hair, you should use between 24 and 32 pumps. That's a lot! How much?
I have 12 pumps in my hand in this picture. This is HALF of what is recommended for my hair. 12 more to go!
The directions said for best results, wash with half the recommended amount (so I did use the 12 pumps), then rinse and repeat. From what I've read about Wen too, many users have advised making sure your hair is very wet before putting Wen in. Wen does not lather at all and it's very, very thick and creamy. It feels great to run it through your hair, but my hair also felt very "thick" with all of that conditioner in it. I used a wide-toothed comb to really work it through, rinsed and repeated. In total, I used 24 pumps of Wen. After the final rinse, I used one more pump as a leave-in conditioner, and I rubbed that through and let my hair dry.
My hair definitely felt different. It felt very, very soft. My usual routine is to let my hair air-dry on its own until it's almost completely dry, then round-brush it with a blow dryer to straighten out the waves. My hair stayed soft and really shiny through this process, and it just looked different – nicer – than it usually does immediately after washing. I began to wonder if there was really something to the "shampoo takes all of the oils out of your hair" claim that Wen bases its conditioning-only concept on. Here are some photos.
As an aside, I have also in the past simply tried to wash my hair -with- my usual conditioner, using no shampoo, and that did not work well for me at all. It didn't clean my hair, and my hair ultimately felt oily and flat. This was different.
Fast-forward from Monday until Thursday, when I washed my hair again with Wen. (I used to wait at least three days between shampooings – any more frequently, and it would dry out. I of course showered during this time, but my hair still looked great and felt clean, so I didn't wash it. On Thursday, my hair looked and felt even better:
This was about the time I started wondering if I was going to like this too much to stop using it… and if I really want to spend $30/month on this! I can
make
my hair look like this with a lot of work, products, hairspray and heat. But now I'm falling in love with my hair again. I haven't even been using any styling products at all this week. I wash, let it air dry about 90% of the way, and then do a quick blow-dry with a round brush to straighten it out. It's so soft and shiny. My husband noticed I was doing something different with my hair and asked about it. I said "Why, what do you think I did?"
He said "I don't know, but it looks… vivacious."
Vivacious. (Who doesn't want to hear that?) My husband also loves the smell. It's got a scent somewhere between suntan lotion and tropical fruit.
So, then I decided to put Wen to the test this weekend. We had a gorgeous, warm and sunny Saturday here in Chicagoland – the kind I like to fill with gardening and yardwork. Usually, the recipe of working all day in the sun, outside, in humid air, plus sweat, is a sure-fire recipe for frizztastic hair. I mentally committed to taking a photo of my hair after my day of yard work and sharing it for this post, regardless of whether it turned out to be a good hair day or a bad hair day. I threw my hair into a ponytail under a ballcap (my usual yard-work 'do!) and headed outside.
I mowed the lawn, weeded the garden, and mulched a flowerbed. Then, I pruned some low-hanging branches of our willow tree, which is slowly growing more horizontal as the years go on. I love this tree, but it leans over more and more each year, to the point that some of the branches that once grew upright were now digging into the dirt under the tree. So, I spent about four hours with my chainsaw, pruning, cutting up the wood and brush, and stacking the larger cut logs on the woodpile. My son was kind enough to document some of my yardwork and hat-hair for you:
So, as dinnertime rolled around, I came inside with my little camera, planning to take my hat off and take a photo of my hair for you. I took off the cap, shook my hair out and immediately snapped this photo.
Really? I could wash up, change clothes, run a comb through and go out to dinner in this hair! I needed a shower, of course, but my hair remained soft, not frizzy!
(I also realized after taking this photo that I wore the same t-shirt for Thursday's photo. On Thursday night after my shower, I put that shirt on just to take that photo as I didn't want to take a picture in my pajamas! Oops. I will try to vary my shirt selection in future updates..!)
I haven't tried any of the other products in the box so far. Honestly, I'm kind of afraid I will like them as much as I like this Wen cleansing conditioner, and I already know what this will cost me if I decide to continue using it. I also know from reading other people's reviews that some of them lose their love for Wen after a few weeks, so I am going to continue using my 30 day kit and update you as I go. But right now? Right now I'm trying to mentally justify why I should spend the equivalent of a dollar a day on my hair. I keep thinking of all the groceries I could buy…
Continue to Wen Hair Care – Week #2
---
FCC Disclaimer: I am not being compensated for this review. I purchased Wen via the summer $29.95 online special shown above, and I am writing my opinions of this product as it's something I've been curious about trying for a long time.
If you decide to try Wen, the $29.95 summer special with bonuses is still going. Note that Wen haircare is a subscription program. It WILL send you more a month from now and bill you $29.95/month plus shipping and handling. You have to cancel if you want to stop it. But, Wen has a 60-day money back guarantee. From their site:
Try the WEN® Healthy Hair Care System for yourself. If you don't think it's the perfect answer to hair care, just return the unused portion within 60 days of delivery and we'll refund the purchase price (less shipping and handling). We can make the guarantee because we know the WEN® Healthy Hair Care System works!
---
Note: In July 2013, I began reviewing Wen with week-by-week updates for my blog readers. Here are quick links to my reviews & updates:
Wen Week #1 | Wen Week #2 | Wen Week #3 | Wen Weeks #4 and #5 | Wen 6-month update | Wen 1-year update
At present, I continue to use Wen regularly.