Note: In July 2013, I began reviewing Wen with week-by-week updates for my blog readers. Here are quick links to my reviews & updates:
Wen Week #1 | Wen Week #2 | Wen Week #3 | Wen Weeks #4 and #5 | Wen 6-month update | Wen 1-year update
At present, I continue to use Wen regularly.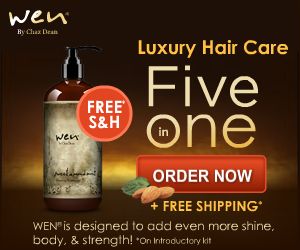 I've been reviewing the Wen Hair Care system Summer Mango Coconut 30-day starter kit, which I paid $29.95 for. Wen is a cleansing conditioner system that cleans your hair without shampoo and promises softer, shinier hair.
Miss my previous weeks' writeups? Here's
Wen Week #1
,
Wen Week #2
, and
Wen Week #3.
---
Week #4: I finished my last week of Wen on July 23rd.
I'm still very happy with the condition of my hair. On July 17th, I went for a haircut on a hot and humid Wednesday. My hair still felt pretty soft, but it was doing that wavy/curly thing it tends to do in high humidity. I'd had my hair up all day to keep cool, so when I went in to get it cut, I took the hairband out once I got to the salon and half-apologized for my hair being kind of messy.
My stylist started combing my hair out and said "Don't apologize, you hair looks great. Better than most I've seen in this weather." And then: "What are you using now? Your hair feels really good!"
So, I told her that I was in my fourth week of using Wen. Another stylist came over and looked at my hair, and she said "I used it too for about six months and loved it. But then, it seemed to start to build up on my hair, and I washed it with regular shampoo for the first time in all that time. My hair was so much cleaner afterward that I cancelled my Wen."

Hmm. Something to consider! I'm not sure if it had anything to do with the weather/season changes for her, though I've seen a couple readers comment on my blog and Facebook that they use Wen during certain seasons of the year and not others.
At any rate, I'm willing to give it another 3-month try. I won't be updating week-to-week anymore, but I'll let you know if my hair's still loving Wen as I continue on with it. Another thing I did this week — colored my hair! This is deserving of a post all its own, but I used an
old-stock box of Natural Instincts that I found at Walgreens
on clearance. (I was a
Natural Instincts girl
for more than 15 years until they changed the formula in 2011. After that, I switched to Garnier Herbashine, which has become next to impossible to find in stores anymore. I'm not sure what I'll do once my next new-old box of Natural Instincts is gone…!)
So, I colored my hair on Thursday, July 18th, and when I was finished, I used the Natural Instincts conditioner that comes in the box of haircolor, as I've always liked the way it seems to seal in the color. I was very happy with the results, but I'm also curious to see if the things I've read about Wen preserving haircolor longer than shampoo are true too.
In writing this 4th week Wen chapter, I realized I hadn't yet tried the Wen Replenishing Treatment Mist. It's a spray that's supposed to "refresh" your hairstyle, I guess. It's not a styling hairspray that holds your hair in place. On Friday morning I woke up and my hair was a little tousled – not my usual pre-Wen Bed Head, but enough to think, "Hey, I'll try that spray and see what it does." I used the spray and it added a little shine and definition to the waves that appeared in my hair overnight. Nice, I suppose (perhaps for traveling – which is where this came from, the Wen bonus travel kit.) But it's not something I would buy regularly.
In conclusion, my hair's still happy. It feels very hydrated and soft, as I've quickly, gotten used to. And even in high humidity, it really doesn't frizz, which is pretty amazing. The waves and curls make an appearance in humid weather, but it doesn't get "big." I put it to the test on Saturday, July 20th, when some friends and I road-tripped about five hours up to northern Wisconsin to see that band I love:
If there's any environment that puts one's hair to the test more than standing in the pit of a rock show, under the lights, in the middle of a field on a summer night? I'd say it passed.
I washed my hair on Sunday, July 21st for the first time after coloring. As I was getting out of the shower, I grabbed a white washcloth and squeezed my hair into it to see how much of the color would wash out. (Ever tried this? It is usually shocking how much ends up on a white towel, even after a "clean" rinse.)
Here's mine:
Not bad at all. As I write this, it's been two weeks since I colored, and my haircolor is still shiny and great. Usually by the time I'm ready to recolor, it's not because my hair has grown out, but because the temporary haircolor has all washed out. What's nice about that is that I don't end up with the dreaded "line of demarcation" where the greys are visible in a stripe on the top of my head. With my hair retaining this much color though, I may end up with a "stripe" after all in a few weeks..!
---
Wen Week #5: I held off posting my Week #4 writeup, because I was waiting for my new shipment of Wen, which did not show up on time. My reorder date should have been July 19th, but another week went by with no Wen. I became an expert of getting Wen out of the bottom of my mostly-empty bottle (and definitely turn that baby upside-down and let it drain down to the "top" overnight once you can't pump any more out. I got three more washes out of what was left in the bottom!)
But once my Wen ran out, I began washing my hair with Wen SixThirteen, which is kind of a "Super Wen" product. It's even thicker than regular Wen, and it did a comparable job washing my hair. Where it really shined (no pun intended!) was as a hairmask though. After a day at the pool, I took a reader's advice and followed the bottle's instructions for a hairmask – apply and work it in, then leave on for 30 minutes and wash out. I was rewarded with super-silky, shiny clean hair that felt like it had been nowhere near a chlorinated swimming pool. Really nice, but SixThirteen is even pricier than Wen, so I had no plans to buy it.
Days went on, and I still had no new Wen shipment. I decided to call Wen last Friday and ask where my shipment was. The representative looked up my order and told me that my bottle of SixThirteen had been on backorder, and that's why it was late. It had just shipped out and was due to arrive Tuesday, July 30th.
I said, "SixThirteen? WHAT SixThirteen? I didn't order that!"
And the representative said that that the bottle of SixThirteen deep conditioner was part of my "package." I asked what my package entailed, exactly, and she said that I was supposed to get four bottles of Wen every three months (correct) and a 12-ounce bottle of SixThirteen. All for $71.80.
Well, I couldn't complain about that. The 12-ounce SixThirteen sells for $34.95 on its own..! And the regular price of my bottles is $29.95. So, five products for $71.80 works out to $14.36 per bottle. This math has helped me justify my new "Wen habit" in the face of all of the cheap shampoo drugstore deals lately. But, as I learned in week #3, if you're ordering from Wen directly, there appears to be a lot of room to negotiate the price after your initial shipment.
Sure enough, this Tuesday, my Wen box showed up with four more bottles of Wen Mango Coconut cleansing conditioner and the bonus bottle of SixThirteen:
For the last wrapup of reader Wen questions…
Reader Kelly writes, "You keep saying how thick Wen is. How thick is it REALLY."
Really, really thick. It has the consistency of slightly softened butter. Check out what happens when you squeeze the bottle:
Now imagine working that into your hair with a comb while you wash. It does not lather. You just "cream" it into your hair, work it in with lots of head-massaging finger action, and rinse it out. It takes much longer to wash with than normal shampoo, but it's pleasant, if that makes sense. Again, here is Wen's how-to-wash video on YouTube.
I know that some of you are also trying Wen this summer. Please feel free to share any of your experiences and thoughts about the product here.
UPDATES:
More about my continued Wen experiences
A note for Wen Seasonal users
Wen available at QVC
---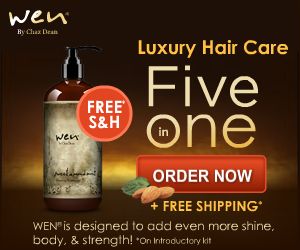 FCC Disclaimer: I am not being compensated for this review. I purchased Wen online last month, and I am writing my opinions of this product as it's something I've been curious about trying for a long time. If you decide to try Wen, you can order it from Wen.com. Or, buy Wen at Sephora or order it online. Or, buy it online from QVC.
---
Note: In July 2013, I began reviewing Wen with week-by-week updates for my blog readers. Here are quick links to my reviews & updates:
Wen Week #1 | Wen Week #2 | Wen Week #3 | Wen Weeks #4 and #5 | Wen 6-month update | Wen 1-year update
At present, I continue to use Wen regularly.