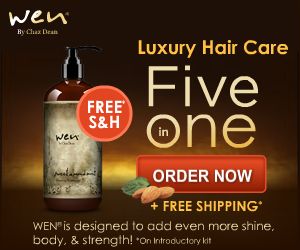 My new shipment of Wen came, and I was excited as I'd read online that the seasonal would either be Pumpkin (last year's scent) or the new Apple Spice scent.
Well, I opened my box and found bottles of… Sweet Almond Mint. The "basic" scent.
I was pretty disappointed and called Wen. They said that they did not receive the new fall scent in time to ship, so they substituted Sweet Almond Mint. (You can still get the Fall Apple Spice from QVC or the ChazDean.com site, but it's more expensive than the seasonal shipments.)
I expressed my disappointment and they asked if I'd rather try another scent that they have. They are sending a pre-paid label to return the box of Sweet Almond Mint, and in its place they are shipping Pomegranate. I asked which variety had an ingredients list/formula closest to the Mango Coconut I'm currently using, and they said that Pomegranate was the closest. (You guys know I'm an ingredients nerd!) So, I'd rather try that.
Anyway, I thought I'd give you a heads-up if you are also on Wen's seasonal plan. I am still really enjoying using Wen, and I don't think my hair has ever looked or felt healthier. Still loving it!
(Miss my five-week series where I reviewed Wen earlier this summer? Here it is with photos…)

---